SharePoint as a business application framework

We described previously that businesses should be viewing SharePoint as a business application framework rather than just a piece of software that 'handles your documents' or as I once heard it called 'it's just an intranet application'!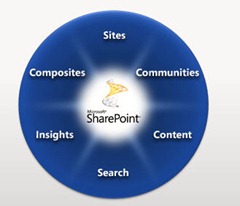 Indeed, it provides an underlying application development and 'hosting' environment in which to provide a repository to store your organisations information. As the image opposite depicts, the forthcoming latest release of the platform (SharePoint 2010) is much more than a document repository; It's a powerful framework for building and hosting powerful business applications, building communities and providing a rich repository for your organisations information.
It therefore provides an opportunity for applications to be bought, configured or developed within SharePoint in a way to solve many of your business challenges, improve efficiencies with the way your staff work together collaboratively and potentially reduce costs associated with your IT budgets.
SharePoint's' intrinsic strength is that it can provide a data repository (in the form content databases stored inside Microsoft SQL Server) for many of your business applications, (both existing and new ones being considered) reducing the need to invest in separate hardware, licensing and on-going support.
SharePoint applications
Generally speaking along with the usual applications SharePoint is used for, such as an intranet, extranet and internet web facing sites, it can also be considered for the following, to name but a few vertical and horizontal business applications:
Project and programme management applications

Marketing campaign applications

Product catalogues

Discussion forums

Research applications

Reporting workspaces

Document imaging application (using scanners)

Training and self-help portals

*List based application (client contacts and knowledge management applications for example)

*Workflow based applications

*Forms based data entry applications.
*Any application that is likely to involve creating or updating 'multiple or single lists' of data may also need to have a search or filtering mechanism applied. Many existing Lotus Notes or other so called complex applications are based on these three types in one form or another and hence should be considered for migration across into SharePoint.
Applications being provided by existing bespoke 'client server' based architectures may also be hosted within your SharePoint environment. Granted, some level of compromise is often needed, but it's at the very least worth investigating with your stakeholders as to whether there would be advantages in migrating these applications and making them more accessible and arguably reducing your overall costs in the long run by the use of 'shared services' provided by SharePoint.
Which is why when looking for specific or custom applications to fulfil a particular set of business requirements, it's worth looking to your existing investment in SharePoint to see if this can be extended to provide the functionality you need. Or indeed consider using SharePoint as your unified underlying platform for introducing several applications you may be considering implementing independently of each other.
Real world examples
Example 1:
An example of this can be seen with the combining of existing document imaging solutions within your SharePoint framework. Your existing print & scanner equipment can be used to capture, store their content (typically tiff or pdf files) into your SharePoint environment. These in turn can automatically tagged with metadata, indexed and provisioned via a searchable or filtered interface making it available for a wider audience, using workflow, etc. Such a real world example of integrating the technologies would be the scanning of customer correspondences, incoming mail or other ad-hoc scanning requirements. This reuse of your investment in both scanning and SharePoint is good example of combining complementary technologies"
Example 2:
Another example would be that of porting your Lotus Notes applications into your SharePoint intranet. Many so called 'Notes applications' are actually just lists of information stored in Notes. These can be migrated and sit perfectly well within the comparable feature set in SharePoint. That said, don't underestimate the challenges when it comes to "document migration" from Notes, as it's notoriously difficult, especially with often complex workflows to migrate. There are 3rd party products available to help here, such as AvePoint, Mainsoft and Quest.
Ideally your original SharePoint architecture should have considered the need to provide additional applications and been built accordingly to handle such change. If it didn't, then you need to carry out a full review and plan the architectural changes required to accommodate them – Do not under estimate the issues here and research this area thoroughly, as it could lead to additional overarching architectural changes, hardware and or software purchases.
Conclusion
So in summary, SharePoint is much more than a document repository; it's a powerful framework for building and hosting powerful business applications that will help your staff manage their information better and more efficiently, helping your business to achieve its strategic goals. So whether its 2003, 2007 or even the soon to be launched 2010 version of SharePoint, plan the deployment or changes well in advanced so that it supports your business needs in the future.
By Andrew Walmsley