Why it's important to Keep your SharePoint and IT strategy in sync
So why is it so important to keep your SharePoint and IT strategy in sync? SharePoint has matured in recent years to become pretty good at being an 'all things to all people' platform, or as I would prefer to refer to it as a 'business applications' framework.
The introduction in SharePoint 2003 of 'Windows SharePoint Services (WSS), licensed as part of the Windows Server 2003 operating system as a 'free' download, was also a clear master stroke of licensing by Microsoft.
WSS provides arguably a good, robust and rich set of all be it simple document management services that would serve many small, medium and to some extent large enterprise businesses well on its own. Indeed this is where many businesses started off in the deployment of the earlier versions of the software, without really knowing what they were getting themselves involved with.
"SharePoint 2010 will continue to provide a compelling 'one size fits all' approach with its attractive feature set that cuts across both intranet, extranet and internet boundaries"
This 'all things to all people' theme is set to continue with the next release, SharePoint 2010. Earmarked for a spring time release, it will continue to provide services and functionality that will meet in my view, a large portion of an organisation's generic solution application needs very well, though other more specific requirements clearly not so.
Like its predecessor in SharePoint 2007, the next version (called SharePoint 2010) will provide a compelling 'one size fits all' approach with its attractive feature set that cuts across both intranet, extranet and internet boundaries. Not forgetting with this release is a persuasive, if immature, Microsoft Online 'cloud based' service offering, which is being updated on the back of their initial launch in 2009.
However, the 'all things to all people' statement has from time to time been its 'Achilles heel' in that it doesn't do one function as well as customers expect or potentially need; Such as document management, records management, wiki's, blogs, workflow and web content management, etc. Arguably these and SharePoint's other core features have a raft of competitor products that if used independently, are far better.
But it's important to remember that SharePoint was not and will not be able to win in such side by side comparisons. Nor is it designed to compete in respect of 'vertical' based business applications or other specialist 'line of business' application software. A point often lost in the discussions and selection process undertaken with choosing an IT solution to meet your needs.
"SharePoint is, if it isn't already, part of those building blocks"
To avoid these scenarios and ensure SharePoint is considered in the correct context, it's important your strategy for its introduction, adoption and management is agreed and understood not just by those in charge of implementation and support, but by all senior stakeholders responsible for IT service delivery.
Furthermore I would advocate keeping this and overall IT strategy in sync. Why? Because more often than not your organisation will be using a growing mix of IT applications, hardware and software, and accumulated a range of skills and experience that your core staff retain and maintain as part of their role.
Hence your IT function has a vested interest in managing the associated costs with this heterogeneous environment. In addition there is, or rather should be a growing desire to simplify, be more responsive and introduce operational and strategic 'building blocks', which can aid the business achieve it strategic goals.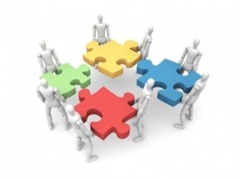 SharePoint is if it isn't already part of those building blocks. Even if it is used tactically now as a 'point solution' for a particular function like an intranet, SharePoint's breadth of capabilities arguably demands for it to be considered in the wider context of your strategic building blocks.
In my next article I will write more on why it is the introduction of SharePoint technologies into your IT strategy is important and how you can further extend the investment you have made in SharePoint 2007 or are about to make perhaps in SharePoint 2010 later this year.
By Andrew Walmsley