If you use Microsoft's SharePoint Services, you'll be pleased to hear there are simple and affordable ways of taking your content offline, perhaps for your remote workers.
A much unheard of, but in my view powerful collaborative feature is that of Outlook 2007's capability to  take anything in a SharePoint list or document library  (they are for all intents and purposes one in the same) offline and sync up upon your return to the office.
Simply pull the drop down 'Actions' option from the list or library concerned, select 'Connect to Outlook' and follow the instructions:
You will be asked basically to confirm your request: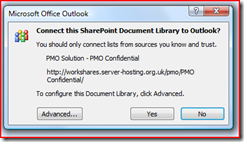 And after syncing, your documents will be located inside Outlook for you to take away, update and or just read.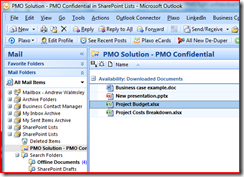 You do need to be using Windows SharePoint Services version 3.0 AND Outlook 2007 for this to work, but is I think I great partnership for people whom work away from the office a lot.
Other tools out there are available at different prices/functionality including Colligio's 'free' reader only product – nice for just viewing content offline.