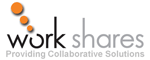 SharePoint Consultancy - WorkShares, the UK's most experienced SharePoint partner, providing collaborative solutions. Visit our home at www.workshares.co.uk
People increasingly need to collaborate, communicate and interact with internal team members, external partners, vendors, and customers. More each day, success depends on distributed teams of people working together, being able to share and manage information efficiently and in a secure manner when in different office locations, out on the road or even in different countries.
WorkShares Ltd was setup in January 2007 to capitalise on this growing need and seeks to fill such a gap in the UK market today, by providing cost effective collaborative solutions aimed at bringing team members, partners, vendors and customers closer together. Specialising in Microsoft® SharePoint®, Work Shares provides specialist SharePoint consultancy and project management expertise.
The founders of WorkShares have drawn upon their experiences of working on in excess of 100 collaborative engagements across the public sector, not for profit and private organisations. From small 30 seat organisations wishing to provide a collaborative extranet for their suppliers, to 20,000+ seat organisations providing an entire collaborative environment for their users accessing information across multiple countries.
WorkShares has offices based in Kingston upon Thames, Surrey, Southampton, Hampshire and Bournemouth, Dorset. If you would like to find out more about our Services and Solutions please contact us for more information. Alternatively, go to www.workshares.co.uk for further information and news about our most recent work.